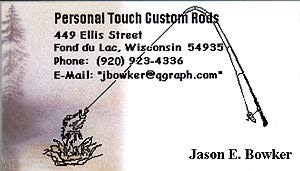 On-Line Quote Form
Please feel free to use our On-Line Quote Form. All quotes are FREE and at no obligation to you.
If any of the terminology below is confusing; please let us know in the appropriate box. We are more than happy to explain what all the different options are, and what they mean. Learning about what you are dealing with is half the fun of dealing with it!! The more you know and understand about components, assembly, materials, etc., the more sense it makes to purchase a custom rod.
Please use the comments area to ask any questions or make any comments you have regarding Personal Touch's home page.
We proudly offer rods built on the following brand name blanks: G. Loomis: GL2, GL3, GL4, IMX & GLX; All-Star; Lamiglas;
St. Croix; Custom Builder Graphite; and Seeker Fiberglass.

Thank You !!!